The reinforced closures have been developed to meet stringent demands in cable networks. For this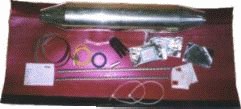 Purpose, a PE with fibre has been integrated in the heat-shrinkable sleeve. This increase the split resistance during shrinking and its mechanical strengh. The inner side of the sleeve is coated with hot-melt adhesive which provides a watertight and secure bonding to plastic and metal-sheathed cable. A temperature-sensitive paint on the sleeve indicates that sufficient heat has been applied to sleeve.
Features
1. Heat-shrinkable composite joint closure system for environmental and mechanical protection of joints in the unpressurised telephone network: aerial, buried or ducted, non-filled or jelly filled, with polyethylene, lead, steel or aluminum sheaths.
2. Composite structure of the reinforced sleeve offers an excellent resistance to mechanical abuse during and after the installation.
3. Integrated moisture barrier completely reconstitutes the cable sheath over the total splice area.
4. Hot-melt adhesive forms a watertight seal to the cable sheath.
5. A metal canister shapes and mechanically protects the splice bundle.
6. Up to 3 cables at each end can be accommodated using three finger clips with hot-melt adhesive.
7. Installation indicators: heat sensitive paint and adhesive flow, white line.
8. Extended size range can accommodate splices up to 2400 pair with any connector type.